About Stephen La Rosa
Stephen La Rosa graduated with Honours from the Culinary Institute of America and was subsequently recruited by top Michelin-starred dining establishments Per Se in New York, Quince in San Francisco, and Hélène Darroze at The Connaught in London.
2017 saw his return to Malta to take on the role of Chief Culinary Officer at the Mediterranean Culinary Academy, where he managed a group of chefs. Together with the Academy's top level team, Stephen designed and implemented over 50 different courses and workshops for over 1,000 culinary enthusiasts. The 2020 pandemic shook the Academy when it was forced to pause in-person sessions. Within the first 2 weeks of lockdown, Stephen began creating the recipes, shooting the pictures and uploading the blog articles to support the company's newfound Recipe Box delivery service.
Over the months spent cooking out of his home kitchen, Stephen realised he could continue to do what he enjoyed most, without risking the health of his loved ones or himself. His culinary education began through reading blogs and watching hours of YouTube, so it only seemed logical to continue to offer his knowledge of food on an online platform. No matter the medium, his goal has remained the same throughout: to influence and educate people to source better food, to cook better, and to eat better. As a result, he launched his blog On Food & Blogging in October 2020, as a platform to inspire aspiring cooks to love their time in the kitchen by learning chef-level techniques that will transform their cooking.
On Food & Blogging
While this won't be clear to many, the name of the blog is a little nod to one of the first and most influential food-related books in my collection. Reading Harold Mc Gee's "On Food and Cooking" was for many, myself included a paradigm shift in how I thought about my cooking.
This culinary-bible didn't provide recipes to follow, or take you step-by-step through cooking techniques, but rather, it demystified the science of what was going on when you cooked something and the reactions that were taking place. It was this sort of invaluable information organized into a densely packed compendium of culinary knowledge, all written in an approachable manner for chefs and layman alike, that made it such an asset to my education. That's the sort of value I'd like to pack into the blog.
There will be recipes of course but I want to provide so much more than that. As valuable as the perfect recipe can be, understanding your ingredients and your techniques properly will make you a better cook and free you to cook creatively. There will be a little bit of food science peppered in here and there but the main focus is to provide you with easy to follow guides, tips and recipes to help you to level-up your kitchen skills that develop your ability to cook food that will impress your family and friends without taking much effort.
To read more about the blog, check out the full article here.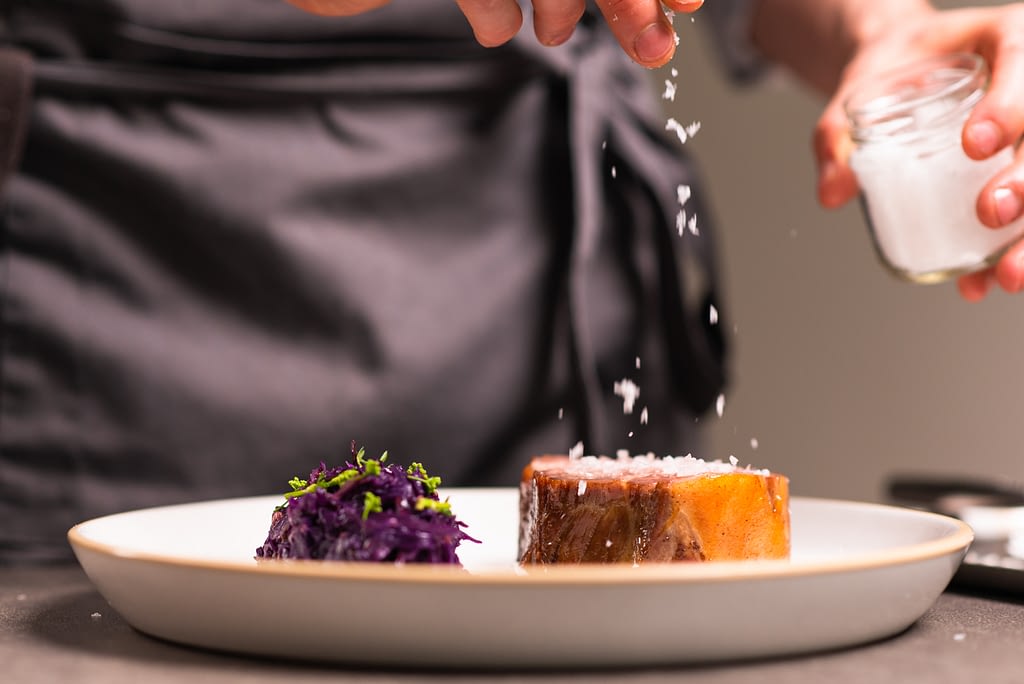 "Stephen La Rosa has an energetic and positive personality, and what really comes through in his work is his genuineness. The content he creates is not created just 'to be content', but out of a passion, creativity, and honesty that jumps out. This is completely refreshing, directly engaging, personal, and stimulating. "
SEAN ELLUL, Malta Independent, Sales & Marketing Manager
"Stephen is generous with his knowledge and shares easily digestible tips from using and pairing herbs to top chef techniques that have elevated my and my partners home cooking."
Monique Chambers, founder of Ingulge, lifestyle and business publisher & broadcaster
Have you ever been to Italy and after finishing off the last mouthful of pasta you end up questioning how on earth they get that sauce so creamy without using any cream? It's now a question that my friends pose whenever I serve them pasta at home!  Thanks to Stephen, I learnt various cooking techniques that have raised my cooking skills to a professional level with easy to follow instructions.  I've Attended many of his workshops and I always go back home having learnt something new – always.
Stephen created a cooking and learning context in which we were able to bring our own experience and not only take it to the next level, but also to experiment with new forms and flavours. SLR was highly skilled at teaching the skills necessary for the preparation of novel recipes, and to guide us with is knowledge and experience. His attention to individual course participants and his encouragement have helped me become substantially more confident as a cook.
On a scale of 1-10, I would give Chef Steve a 20 for his professionalism and recipes. He taught me how to be organised, not to give up when something goes sideways, shared many tricks and tips and most importantly the recipes we tried were delicious.
After having taken the first step to enroll in a cooking class taught by professionals, I can say that it has been the best choice I have made, because I have learnt so much, and in such a friendly easy-going environment. Stephen is such a downright humble teacher, that he makes you feel instantly at ease, patiently explaining, and if need be over and over, the best and more professional way of being a better cook. I look forward to any class he is teaching, in his warm and easy manner.
Stephen La Rosa happens to be one of the most culinarily knowledgeable people I have ever had the pleasure to meet. His love for cooking, expertise and humbleness have not only inspired the enthusiasts but also encouraged and helped those who would have not called themselves a dab hand in the kitchen.  Having loved the kitchen since I was a child, I can say that having attended his workshops, I learnt how much I still did not know I didn't know.